Residential Generators
4B Systems installs and services standby back up power generators in metro Chicago area.  Standby generators come in a wide variety of sizes from 6 kW to 150kw and larger.  4B Systems handles the entire project from sizing the generator, purchase of the equipment, handling the electrical and plumbing, permitting and installation.  We've installed 100's residential generators in the past few years in the metro Chicago region.
Generator Sizes
Generators are sized in kW or kilowatts, so a 10kW generator will produce 10 kilowatts or 10,000 watts of power.  4B Systems, as a licensed electrician will help you determine the proper generator size after calculating the anticipated electrical loads.  Keep in mind, a standby generator can be connected to all of your home's electrical circuits or just a few "essential circuits".  You can power your whole home during an outage or just the essential circuits like your refrigerator/freezer, kitchen appliance, a few light and receptacle circuits, the fan blower motor for gas heating equipment, the security system, garage door opener, and water pumps and sump pumps.
A very popular generator is a "20kW" (20,000 Watts) model.  It's easy on the budget because most 20kW generators are air-cooled (as compared to "liquid-cooled") and cost between $3,500 and $5,0000, including a 200-Amp Automatic Transfer Switch (ATS).  Most 20kW generators are connected to a 200-Amp load center and, thus, come with a 200-Amp ATS and Cold Weather Kit.
If your home is under 4,000 square feet or less, a 20kW generator will be sufficient.  A 20kW generator will run most house receptacles, lights, and up to a 5-ton central air conditioner.  When a generator is connected to all house circuits, the installation is referred to as a "whole house generator installation" and will cover:
kitchen receptacles and lights (including refrigerator/freezer)
the fan blower motor for your gas heat
the security system
garage door opener
lights and receptacles, and
central air conditioning unit.
Determine the right generator for the job
Now that we've identified which electrical circuits are important, we can project the total electrical load from these same loads.  Here's a sample scenario during the summer months where we are doing the laundry but we're conserving power and not operating the washing machine and dryer at the same time.  We're also not operating any cooking appliances.  Someone is watching TV and downstairs, one ceiling fan is "on" as well as the downstairs air conditioner.  Let's look at the results: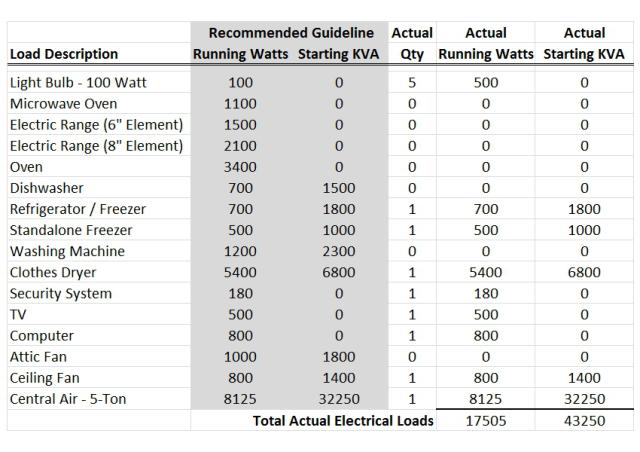 Let's talk about overall project costs
Costs for typical 20kW generators (with ATS) vary from around $3,500 – $5,000 for a Cummins or Generac generator with a Cold Weather Kit and ATS Switch.     Most manufacturers now offer a 5-year limited warranty (generally, 5-years on parts and 2-years on labor) with an optional 5-year comprehensive warranty.
Installation costs can vary widely.  The lowest cost installation can be obtained if the electric meter and gas meter are located next to each other on the same side of the house.  Installation costs may range a bit higher when the generator is located away from either the electric or gas meters, especially in situations where the electric meter is on one side of the house while the gas meter is on the opposite side of the house. When budgeting for a professionally installed standby generator for your home, it is best to assume installation costs will closely approximate the cost of the generator equipment.  This isn't always true but, more often than not, the rule of thumb is fairly accurate.  So—if you spend, say, $5,000.00 for the generator equipment, expect the total project to be around $10,000.00.  Project costs for liquid-cooled generators begin in the mid-teens and can often range well in excess of $20,000.00.
The 20kW air-cooled generator is the generator of choice in 70% of all installations.  Use it as a whole house generator for homes under 4,000 square feet (with gas heat and hot water), or as a partial house, essential circuits only generator for larger homes.
Avoid making this mistake …
You might be shopping at a Big Box Store and find a standby generator with lettering on the box claiming to be a "Whole House Generator".  More than likely, the kit includes a 200-Amp ATS that connects to your home's 200-Amp service, thus, covering the entire house.  The generator itself can be as small as 12kW or up to 22kW.
This is important:  The term "Whole House" refers to the ATS, not the generator.  If you connect a 200-Amp ATS  to your home's 200-Amp service, you now have "Whole House Coverage".  If you are looking for a Whole House Generator, it is critically important that you calculate the anticipated electrical loads, better still, consult an industry professional.  An "industry professional" is not necessarily any electrical contractor.  While there are many gifted electricians out there who can quickly resolve just about any electrical problem, the truth of the matter is many electricians have little or no experience installing a standby generator.  The lesson to be learned here is to work with an experienced generator installer and, preferably, also an authorized dealer for the manufacturer.
At 4B Systems  – we know residential generators. We can get you the best price on the unit, professionally install it, and maintain it for you.  Please contact 4B Systems for a free quote on Residential Generators in the Mundelein and metro Chicago region.