Ceiling Fan Installation in Mundelein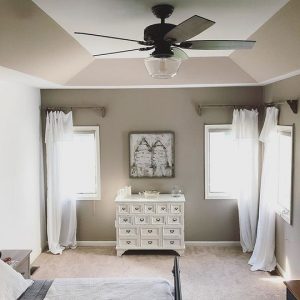 Ceiling fans can provide cool air in the summer and move warm in the winter. A good fan can save money and wear and tear on your HVAC equipment and cost virtually nothing to operate.   During either season, using a ceiling fan can produce a more comfortable living environment. Since the air conditioner and heating system are not needed as frequently, this strategy can also lower the cost of energy bills.
You Need an Electrician for Ceiling Fan Installation
Since the ceiling fan is hardwired to your electrical service, it is important to hire an experienced, licensed electrician who can see to the proper installation of this device. 4B Systems has years of experience installing ceiling fans.  We are master electricians so we know exactly what to do to ensure that there is no risk of a fire. Faulty installations by untrained electricians can lead to short circuiting and difficulty in getting the fan or its lights to work properly, if at all.
Ceiling fans are run by a small electric motor and are generally heavy.  If the ceiling fan is not properly positioned on the ceiling, the fan may not work properly and will eventually get out of balance and start making noise.  We understand that your fan needs to be properly secured to a strong beam along the ceiling. When we arrive at your home or office to install the ceiling fan will also verify that the electrical junction box can support it.  We will wire the lights if you have chosen a ceiling fan that features them.
Hiring an electrician to complete a ceiling fan installation provides the following:
4B Systems, Inc is based in Mundelein, IL and we service the metro Chicago region.  We've been in business for over 25 years and have installed thousands of ceiling fans in homes all around Chicago.  Here's what you should expect from a licensed and insured electrician.
• Peace of mind that the job has been done properly
• The task is done to current building codes, so you don't need to worry if you decide to sell your home.
• Any questions that you have concerning your ceiling fan installation will be clearly answered.
Do You Need to Buy a Ceiling Fan with Lights or Wifi?
Today's styles of ceiling fans are sold with or without lights – more often with LED lights. The newest versions all have Wifi and remote options.  Whether or not you purchase a model with lights, remote and Wifi is entirely your choice.  We can handle any type of ceiling fan.  Here are few questions to help you decide.
• Does the room have sufficient lighting?
• Is the fan going in a well-traveled area of the home?
• Is someone with poor vision going to use the ceiling fan?
• Would you like to do away with free-standing light fixtures in the room?
Get a Free Quote for a Ceiling Fan Installation
For us to provide you with a free quote on a ceiling fan installation, you will need to know the size, make, and model of the ceiling fans that you are having installed. It is also important to note whether or not an existing source of electricity is located in the area where the ceiling fan installation is to occur.  In most cases – this is a fairly easy project.  We've installed thousands of ceiling fans of every make, model and location – inside and outside of the home or office, so we can easily, quickly and professionally, install yours.
Ceiling Fan Brands
Panasonic
Emerson
Broan-Nutone
Casablanca Fan Company
Hunter
Minka Air
Tommy Bahama
Craftmade
Designers Fountain
Modern Fan Company
Montecarlo
Kichler
Casa Vieja
Concord
Fanimation
Hampton Bay
Quorum